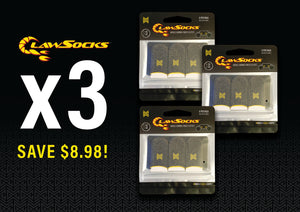 BUY 3 PACKS AT A DISCOUNT!

Upgrade your touch controls with ClawSocks - the premium finger sleeves that instantly improve your mobile gaming consistency, precision and performance! 

We've perfected the finger sleeve formula with our 18-needle Nylon and Spandex weave that's incredibly thin, breathable and durable. We use a generous amount of 100% REAL SILVER thread - the most conductive metal on Earth - for maximum touch response and sensitivity. We finish each sleeve with precision stitching for a seamless feel.
They're simply the best mobile gaming finger sleeves ever designed.
Features:
Enhances touch control and precision

Consistent in-game movement and precision

100% silver thread for the highest conductivity
Thin, soft and comfortable stretch
High-density weave for lasting performance
Combats humidity, sweat, dirt and oil
Compatible with all touchscreen devices
Package of 6 ClawSocks